Decorating with Your Favorite Color Combinations
I don't know how many times in life we get the question, "What is your favorite color?" Well, I know that seems like an easy answer, but is it really? Most people like more than one color. I know I do. A better question would be, "What is one of your favorite color combinations?" That would be easier to answer, like pink and mint or gold and turquoise. (Turquoise is one of my favorites and I have a Pinterest Board dedicated to this color!)
Life is just full of too many beautiful colors to narrow it down to just one. And, when it comes to art or home decor, if you want your color to shine, choosing the right company is a must.
I love to pick one or two accent pieces such as beautiful throw pillows or wall art and build my color combinations from there. This printed pillow is a great example. The vibrant colors in orange, turquoise, and teal would be the perfect accent piece to start with. If your room is neutral colors, navy, or even blue, adding in colors from the stunning art printed on the pillow would be simple.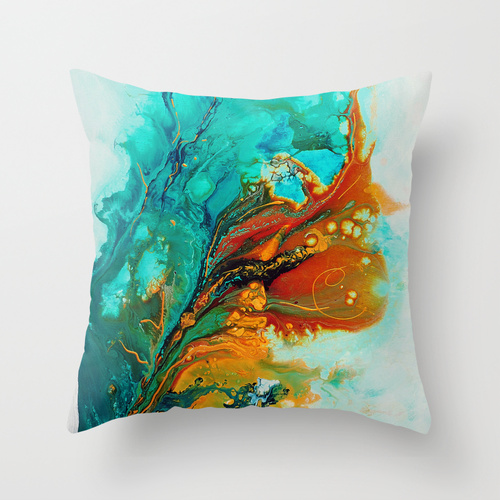 It is pieces like this that make decorating your home fun and exciting. When looking at cushions like this my mind races with possibilities. If you have a sofa set in neutral browns, adding this pillow and pulling out the orange colors, would certainty make a grand statement. You could also go with an almost monotone color scheme by playing with the different tones of teal and turquoise if you have furniture in blues or white.
The color combinations are almost endless when it comes to accent pieces like this pillow or giclee print. Never be afraid to let your mind run wild and don't chain yourself to just one favorite color - no matter how many times you are asked to narrow it down to just one. We live in a world full of vibrant beauty and it's time to show it. Fill your home with colors to make your living space your own little piece of heaven. As you can see from just this one pillow, the options are as vast as your imagination.