Pillow Talk: How To Style The Perfect Throw Pillow Arrangement
When it comes to creating a stylish living space, decorating with throw pillows just might be the easiest and most cost effective way to give a room a boost. They may seem like a small element of your home's interior landscape, but cleverly arranged pillows really add some oomph, taking a couch, bench, or sectional from so-so to so very chic in an instant.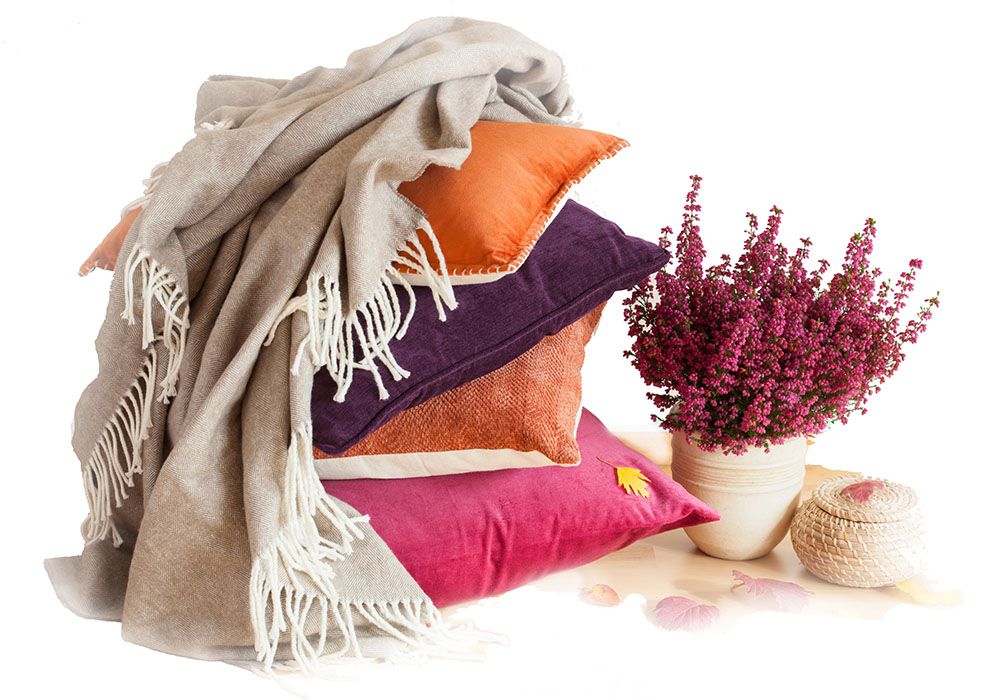 What's the secret to putting together a beautiful combination? Here are some tips to get you started, whether you're decorating a new house, apartment, or vacation home for the first time, or simply looking to refresh your décor with some trending pieces.
Let The Color Palette Be Your Guide
The key to creating a cohesive statement all comes down to color. When choosing your throw pillows, determine the palette you want to work in and make your selections from there, opting for lighter and darker tones within that grouping. Choose patterns that share the same hues as one another and also pick up on the color of the sofa (or whatever base you're styling) to keep the look grounded.
Consider Composition
There's definitely an art to styling a good cushion arrangement, but that doesn't mean there aren't numbers involved. Consider the aesthetic you've got in mind. Working in odd numbers—three to five cushions—creates a relaxed, effortless look that's naturally inviting. Going for something a little more polished and traditional? An even pillow count set in a symmetrical balance lends a refined air to your layout.
Layer Sizes & Diversify Shapes
Let's face it: size matters. Especially when it comes to putting together the perfect pillowscape. Set up a strong base with the biggest pillow at the back—18- to 20-inch squares for the standard-size couch, or 22- to 24-inch squares for a larger couch. From there, work your way down with a medium-size square in the middle and then finish up by adding something smaller in a contrasting shape, like a rectangle, a bolster, or even a circular style.
Play with Texture, Pattern& Detail
Now here's where things get really fun! Mixing it up with different patterns, fabrics, and interesting design elements adds depth, dimension, and most importantly, personality to your pillow arrangement. With solid-color pillows, go for textural materials and unique trims to create visual appeal. Get creative when it comes to prints—mix and match, experiment with scale. Stripes, plaids, and graphic designs can sit beautifully against organic florals and travel-inspired textiles, just make sure to maintain consistency of color tones to keep it all pulled together.
Keep these ideas in mind and you'll be well on your way to inducing pillow envy in each and every visitor that steps foot in your home.
Ready to get styling? Create your own dynamic mix with the newest selection of throw pillows.